Osinbajo urges Nigerians to be wary of media reports on security challenges
Vice President Yemi Osinbajo has urged Nigerians in the Diaspora not to rely entirely on social media reports on the security challenges facing the country.
Speaking at a townhall meeting in New York on Sunday evening, Osinbajo said the social media "tends to be hysterical about practically everything".
The News Agency of Nigeria (NAN) reports that the vice president spoke in response to several questions and comments on the security situation back home.
Many members of the audience had taken turns to express concern about the reported spate of killings and kidnapping back home, and wanted to know what the government is doing to address the situation.
He said, "With respect to general kidnapping which we have seen in parts of the country, again, this is not entirely new.
"In fact, some of the kidnapping stories you read or listen to are simply not true anywhere, some are fuelled by politics.
"There are cases of kidnapping, no question at all about that, but some of the more dramatic stories that you hear are simply not true.
"Every report of kidnapping we receive, we try to verify, and at the end of the day you find out that people just tell all sorts of stories," he said.
The vice president said the Federal Government was working with the states to check kidnapping where it was actually taking place, using technology to track the perpetrators.
He said the efforts were already yielding results with several arrests made by security agencies in affected areas.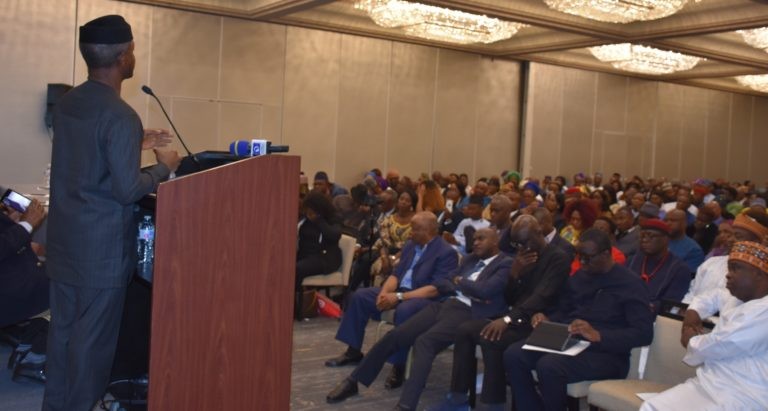 Osinbajo said the government was capable of addressing the security challenges, assuring Nigerians that the news "will be a lot better very soon".
Turning to banditry and farmers/herders clashes in the north west and central, the vice president described them as "resource conflicts".
According to him, banditry especially in Zamfara and Katsina was more of a fight over the control of mining sites by armed groups.
He said the government was taking several measures, including shutting down the mines, to address the problem.
"In the north central, we have the livestock transformation plan to address the farmers/herders conflict.
"Ultimately, it is ranching that will solve the problem because you cannot have people wandering across the the country with their cattle.
"It is not helpful to them, this they know, because ranching is more convenient and profitable.
"So, we are building herd dams in the northern states so that people don't necessarily come down south in search for water and green pastures for their herds.
"We are also trying to ensure we provide grazing areas before we come to cattle routes," he added.
Osinbajo said in fairness to herders, the livestock sector had not enjoyed the kind of government's funding and support accorded farmers over the years.
He stated that there was also need for government's intervention in livestock, and solicited private sector support and investment in that area.
Rotary Should Continue to Inspire Women for Economic Growth- Alaba Lawson
A call has gone to Rotary International District 9110 and indeed organisations around the country to  consistently inspire and promote women for economic and national growth
The appeal was made by former President, Nigerian Association of Chambers of Commerce, Industry, Mines and Agriculture (NACCIMA), Chief Alaba Lawson while presenting the keynote address at the first Rotary District 9110 Women in Rotary Conference held at the Nigeria Law School Auditorium, Victoria Island, Lagos.
Speaking on the topic " The Transformational Woman: Diversity, Equity & Inclusion For Socio-Economic Change", Chief Lawson stated that Rotary as an organization has made giant strides in the area of women empowerment and advised that the body should do more as it will ultimately lead to the nation's growth.
She noted that women are the key to Nigeria's economic and political advancement, and the more women involved at the top echelon and decision-making process, the better.
 According to her"When more women work, economies grow. Women's economic empowerment boosts productivity, increases economic diversification and income equality in addition to other positive development outcomes".
Describing women as the future, she stated that studies have shown that companies with more women on their boards outperform those without them by a significant margin, and organisations with greater gender diversity globally grew to 32% in 2022.
According to her, women often excel at soft skills required for business leadership and they represent a significant economic force and provide valuable consumer insight that any nation needs to thrive.
She further highlighted the fact that Nigeria needs traits such as ability to connect, collaborate, empathize, communicate and be prudent which are inherent in women to make progress in key sectors including economy, politics and more.
She, however, lamented that despite the fact that women are in the majority in terms of population, the opportunities for them to show their skills and contribute meaningfully have been hampered by systemic bottlenecks.
She therefore advised that to fuel its fire of progress and revolutionize its economic, political and social structure, women must be given adequate representation in government and key sectors of the economy.
Also speaking, Tax expert and  management consultant, Mr Gbenga Badejo who spoke on "10 Top Financial Challenges for Micro, Small and Medium Enterprises" noted that if women can overcome these challenges, they would be able build formidable businesses and play in the big league.
He gave the challenges as: limited or inconsistent cashflow, not using budgetary control mechanism, no preparation for unforeseen expenses, not raising enough capital, too much debt, neglecting necessary financial reporting and book keeping, , poor regulatory compliance, mixing business and personal finances, poor marketing tactics and poor managing of receivables and payables.
Earlier in her welcome address, Rotarian Omotunde Lawson, District Governor, Rotary International District 9110 noted that the conference, the first in the 41 -year history of the District, which covers Rotary Clubs in Lagos and Ogun States, was aimed at equipping women with the right support for personal and financial growth.
The conference was rounded off with a dinner and awards ceremony at the same venue where eminent women were honoured for their contributions to national development.
Nigeria Fast Exceeding Borrowing Limit, Budget Office Warns
The Director General, Budget Office of the Federation, Mr. Ben Akabueze, has expressed concern that Nigeria is fast exceeding its limited borrowing space.
Akabueze stated this at the International Conference Centre, Abuja, during the induction of newly-elected lawmakers of the 10th National Assembly, on Wednesday.
He said: "While the size of the FG budget for 2023 created some excitement, the aggregate budgets of all governments in the country amount to about 30 trillion Naira. That is less than 15 percent in terms of ratio to GDP.
"Even on the African continent, the ratio of spending is about 20 percent. South Africa is about 30 percent, Morocco is about 40 percent and at 15 percent, that is too small for our needs.
"That is why there is a fierce competition for the limited resources. That can determine how much we can relatively borrow. We now have very limited borrowing space, not because our debt to GDP is high, but because our revenue is too small to sustain the size of our debt. That explains our high debt service ratio.
"Once a country's debt service ratio exceeds 30 percent, that country is in trouble and we are pushing towards 100 percent and that tells you how much trouble we are in. We have limited space to borrow.
"When you take how much you can generate in terms of revenue and what you can reasonably borrow, that establishes the size of the budget. The next thing would be to pay attention to government priority regarding what project gets what.
"The budget is not a shopping list. In the end, the budget only contained expenditure," he said.
CBN Proposes Mopping Up Dormant Account Balances, Unclaimed Funds
The Central Bank of Nigeria has proposed that banks should transfer funds in accounts that have been dormant for up to 10 years into a trust fund account.
This is contained in the recently released exposure draft of guidelines on the Management of Dormant Accounts, Unclaimed Balances and Other Financial Assets in Banks and Other Financial Institutions In Nigeria.
A circular accompanying the exposure draft stated that the guideline was in response to requests from banks and other stakeholders for the CBN to clarify the procedures for the management of dormant and inactive accounts by banks in the country.
The circular, which was signed by the Director of Financial Policy and Regulation Department of the apex bank, Chibuzor Efobi, also called for inputs which should be sent within three weeks.
The draft states that banks and other financial institutions are expected to transfer all unclaimed funds into an Unclaimed Balances Trust Fund pool account, which will be domiciled at the CBN.
The apex bank said the balances would be invested in government securities like Treasury Bills and would be returned to the beneficiaries not later than ten days of notice.
CBN said, "The Central Bank of Nigeria shall open and maintain an account earmarked for the purpose of warehousing unclaimed balances in eligible accounts. The account shall be called 'Unclaimed Balances Trust Fund Pool Account."
The eligible accounts and financial assets are current, savings and term deposits in local currency; domiciliary accounts; deposits towards the purchase of shares and mutual investments; prepaid card accounts and wallets; proceeds of uncleared and unpresented financial instruments belonging to customers or non-customers of FIs; unclaimed salaries and wages, commissions, and bonuses.
Others include proceeds of stale local and/or foreign currency drafts not presented for payment by beneficiaries; funds received from a correspondent bank without sufficient details as to the rightful beneficiary and/or a recall of funds made to the remitting bank to which the Nigerian bank's account has not been debited and a judgment debt for which the judgment creditor has not claimed the amount of judgment award.
The central bank said any bank or financial institution that contravenes any provision of the new guidelines would attract a penalty of not less than N2,000,000.
It added that failure to comply with CBN's directive in respect of any infraction would attract a further penalty of N200,000 daily until the directive is complied with or as may be determined by CBN.
The CBN said the objectives of the guidelines are to "Identify dormant accounts/unclaimed balances and financial assets with a view to reuniting them with their beneficial owners; hold the funds in trust for the beneficial owners; standardise the management of dormant accounts/unclaimed balances and financial assets; and establish a standard procedure for reclaim of warehoused funds."
The CBN also said that it would publish an annual list of the owners of the unclaimed balances that had been transferred to the pool account as well as the procedure for reclaim of warehoused funds.
In the signed Finance Act 2020, the Federal Government revealed plans to borrow unclaimed dividends and funds in dormant account balances of Deposit Money Banks. This was disclosed under Part XII of the Companies and Allied Matters Act in the Finance Act.
The move elicited reactions from stakeholders and a lawsuit from the Socio-Economic Rights and Accountability Project in 2021.
The Punch